25+ Years of Buzzworthy Beauty
Vera Kantor

A must-have in every smart LA girl's purse is an appointment card to Russian miracle worker Vera Kantor. She has been spinning her own form of healing for more than 25 years. Cheryl Tiegs, Madonna and Steve Martin are but a few of those beating a path to Kantor's salon, where she uses natural products such as aloe, calendula, chamomile and camphor.

You Want Fries with That?

Consumers are binging on the $5 billion spa industry's newest thing: food baths and massages. To find out why, I went for the Champagne Wishes & Caviar Dreams treatment at Verabella in Beverly Hills. I admit I wasn't too excited about wrapping my face in caviar and a freeze-dried collagen sheet. Ah, me of little faith. I floated out of the place glowing and exuberant, vowing to return once a month...

Beauty Now — Skin Care

Across the country, Vera Kantor, skin-care guru to Madonna and Johnny Depp, now has a short take on her celebrated ninety-minute facial; the Pick-Me-Up at her VERABELLA boutique in Beverly Hills clocks in at half that.

Fresh Faced

A 20-year veteran of two top facial salons, Vera Kantor hung out her shingle a year ago in a terra cotta-tiled courtyard with underground parking, a boon to privacy-minded clients such as Lisa Rinna and Jada Pinkett Smith.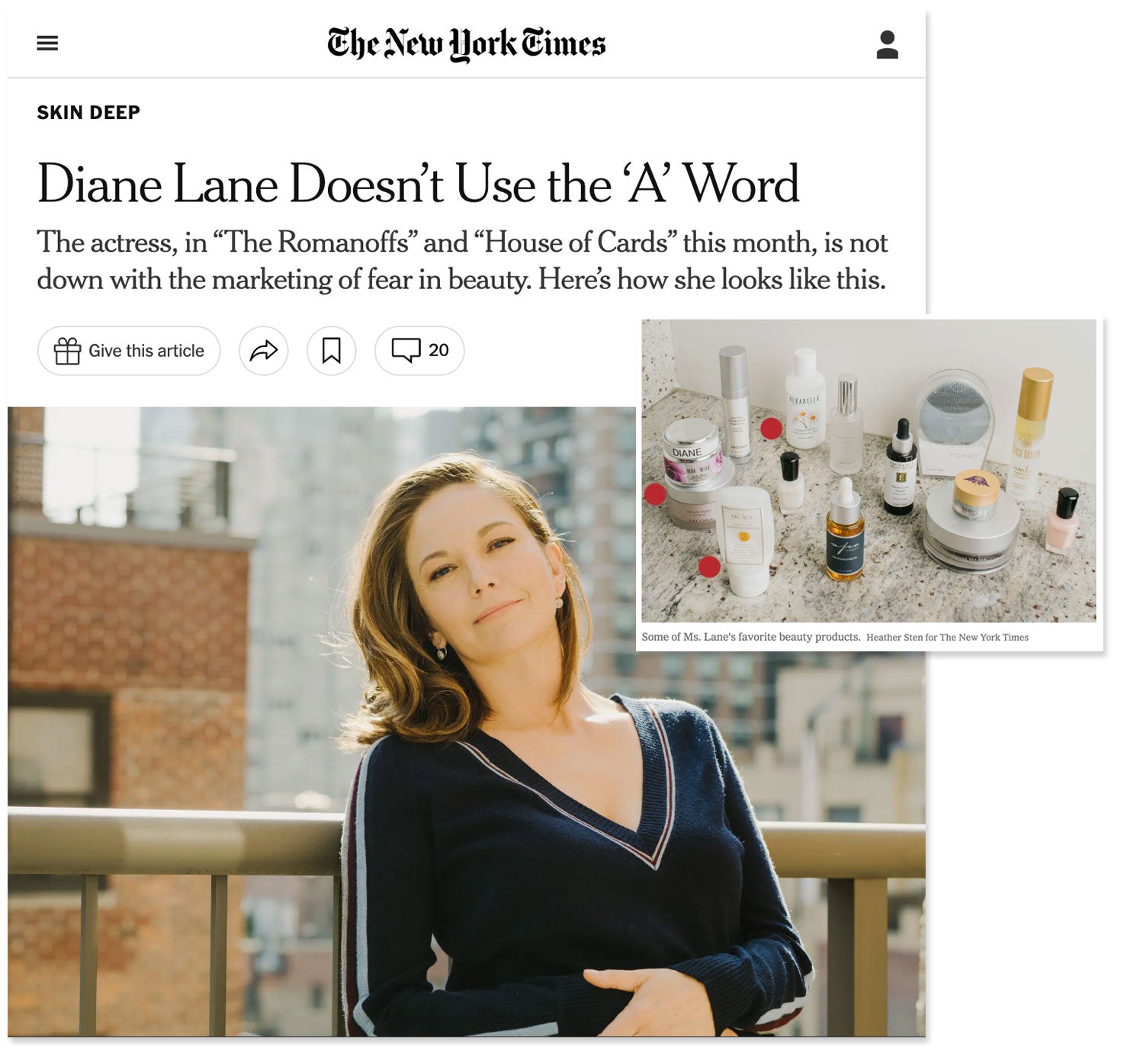 And there is my beloved Verabella on the West Coast. She is Russian and the real deal. She has many products I swear by. I won't go into all of them because people will realize I have a cosmetics problem, and I don't want to out myself just yet.
She has this calming rose cream called Bella Rosa that is wonderful. When you're having your face touched all dang day long for work, it's wonderful. I wonder what men's skin would look like if they were getting their eyes poked for 30 years.
Verabella also has an amazing sunblock that has cucumber and aloe in it. → read at The New York Times
Sweet Therapy

"I learned about these natural facials from watching my mother and grandmother experiment using food straight out of the kitchen," says Vera Kantor of Verabella in Bevery Hills. Her special Fall on Your Face facial begins with a cranberry apple scrub or milk cleanser, followed by a pumpkin pie peel, and ends with your choice of a garden mask depending on your skin type. "Think of it as a Thanksgiving feast for your face, without the turkey," she adds.

Beauty Buzz

For those high- (or, perhaps, low-) maintenance types who keep nothing in the fridge but a bottle of Cristal and a jar of Petrossian caviar, there's now a suitably luxe spa treatment to match. And it isn't just a gimmick: Actual Champagne activates yeast in an exfoliating enzyme peel; a mixture of mineral-rich Beluga, Sevruga, and Osetra caviar ampules delivers A, B, and C complex vitamins to moisture-starved skin.

Slavs to Beauty

"Beauty was a big priority to us, but with government rationing we had to be resourceful," says Kantor, reminiscing about her childhood. "We used oatmeal and yogurt as face masks, honey and almond for exfoliants, arnica from the garden for healing, and chamomile tea for cleansing the pores."

Skin Savers

Lisa Kudrow and Courteney Cox come to this salon to see Vera Kantor. If you thought Steve Martin looked good hosting the Oscars, Kantor's Champagne & Caviar facial is one reason why. Inspired by her Russian childhood ("When the caviar jar was empty, my mother would rub the oil on her face")...

"leaves skin luminous"

Leave it to a Beverly Hills spa to concoct a facial loaded with luxe ingredients... "Caviar extract is rich in vitamins A, D, B1, and B6," says spa owner Vera Kantor, whose clients include Lisa Kudrow, Candice Bergen, and Michael J. Fox. "It makes your skin look smooth and fresh." The perfect pre-Oscar splurge.

Rubbing Elbows

When a TV star invites you to spend the day with her at her longtime favorite spa, you don't say no... Kelly Rutherford doesn't receive a sales commission for every Verabella product sold—she's just been going to the spa "forever" and is so enthused about the place. Verabella's client list also includes Madonna, Jada Pinkett Smith, Lisa Rinna, and Johnny Depp.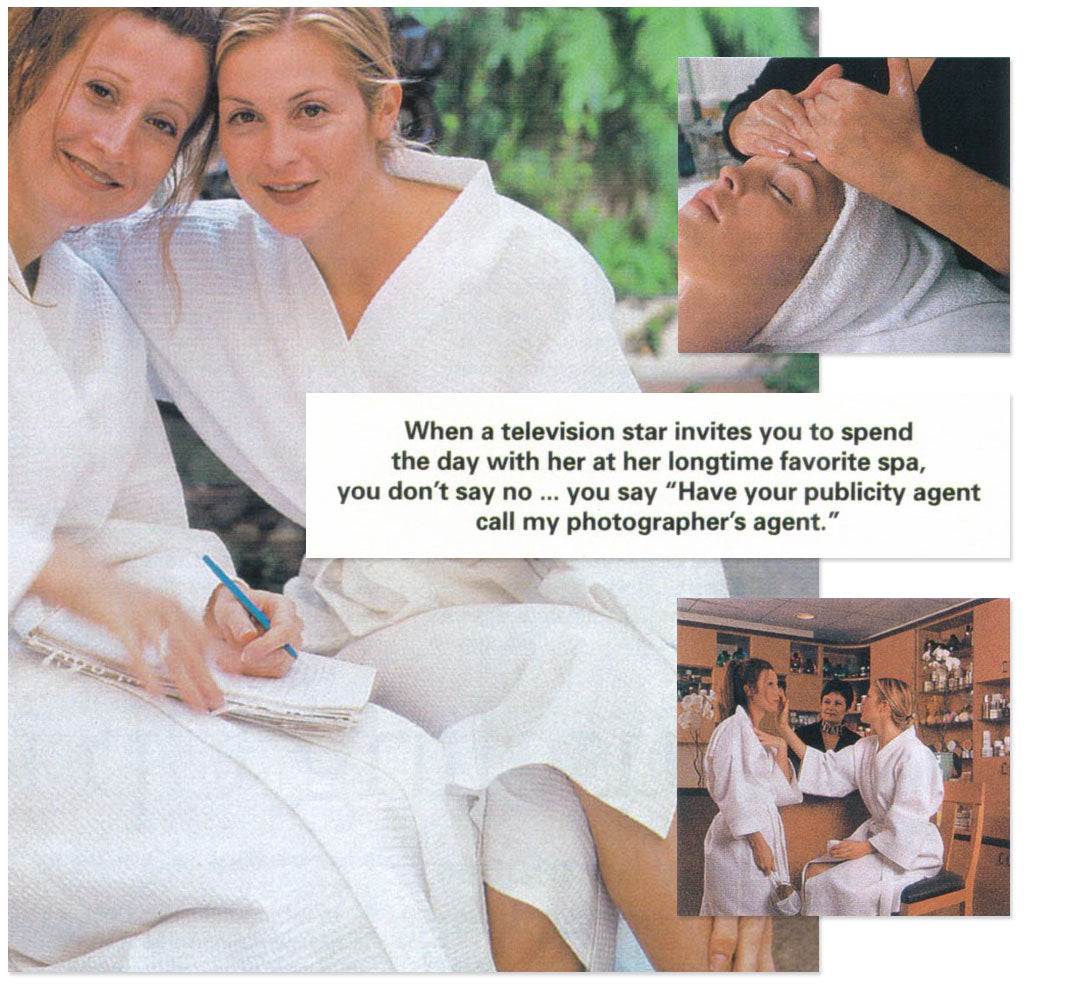 "I've been going to Verabella for ages—their facials are incredible," she says. "Her products are all handmade and absolutely amazing. Your skin totally changes after regularly using her products."
No, Kelly Rutherford doesn't receive a commission for every VERABELLA product sold—she's just been going to the spa "forever" and is so enthused about the place that she wanted to spread the good word.
Kelly goes for "anything fruit-scented," especially the Citrus Sorbet, an oil-free moisturizer with aloe vera, vitamins C and E, and sage, which disinfects skin.
Best of Beauty

VERABELLA Skin Therapy, Ripsy Alexanian's Orthopedicure established her reputation as the "nail nurse" of Beverly Hills.

Deep Clean for Clarity

Purify and regenerate your client's acne-prone skin: VERABELLA's Aloe Hydroxy Clarifying Night Serum.

Behind the Seams

Stranded on The Matrix 2's Northern California set, Carrie-Anne Moss was sorely in need of pore treatment. Fortunately for the actress, the film's wardrobe girl invited skin care guru Vera Kantor of Beverly Hills' Verabella Skin Therapy to come to Moss's aid. The resourceful Kantor converted a wardrobe fitting room into an oasis of calm and gave Moss her signature caviar facial...

Carrots

For a more posh take on the carrot craze, salon to the stars VERABELLA in Beverly Hills offers the 14 Carrot Facial. The luxurious treatment is touted... "Carrots are incredibly high in carotenes, precursors to vitamin A... they trigger exfoliation and stimulation of collagen production," says Vera. Adds her daughter, spa director Victoria, "It's a very nourishing facial, and it smells like carrot cake!"

Inside L.A.

BREAK-UP ARTIST: Attorney Annie Wishingrad helps Hollywood deal with the nuptial end game. Best-Kept Secret in L.A.: My facialist, VERABELLA on Canon, is absolutely amazing. My skin has improved since I've been going to her.

Oscar Style

Champagne, roses and caviar are the obvious way to go. Why not throw a twist into the predictable Valentine's mix? Up the ante and treat yourself to one of Cupid's fabulous facials – Verabella's Everything's Coming Up Roses & Chocolate facial.

Fall Harvest

The year's most bountiful season yields a feast of organic treatments that will leave you feeling beautiful inside and out. Start out at Verabella for the Fall on Your Face facial. Using pumpkin, cranberry, and carrot-infused masks, scrubs, and serums, this treatment will leave your skin radiant and soft. I could feel my face tingling as the ingredients exfoliated, de-aged, and evened out discoloring from sun damage. The scent was so incredible and evocative of good memories, I was immediately put at ease.

Peppers for a Rosy Glow

Madonna. Brooke Shields. Jada Pinkett Smith. Suzanne Somers. All celebrity clients of VERABELLA in Beverly Hills and all hot mamas! Now you can be one too… The Hot! Mama Facial is unique, because it incorporates sweet hot peppers with organic aloe vera gel to create a stimulating effect on the skin, creating a natural oxidation, lifting the contours of the skin and creating a natural glow.